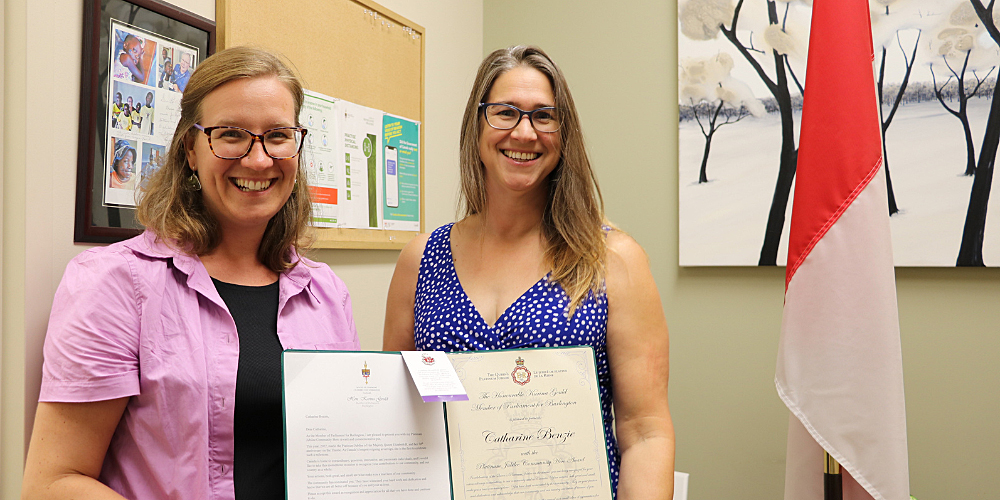 Library Board Chair recognized for community service
Congratulations, Catharine! BPL's Board Chair, Catharine Benzie recently received the Platinum Jubilee Community Hero Award in recognition of her exceptional contributions to the Burlington community.
To mark the 70th anniversary of the reign of Her Majesty Queen Elizabeth II, The Honourable Karina Gould, Member of Parliament for Burlington, created this award and invited residents to nominate someone who has made a meaningful impact through their work or volunteerism.
Nominated by a Fellow BPL Board Member
In her nomination testimonial, Board member Lindsay Zalot reflected on Catharine's inclusive and approachable leadership that has served the Library and community well for seven years, including three as Board Chair. Catharine has championed initiatives to make Burlington Public Library a safe and welcoming place for all residents, such as reducing barriers to library service as a "fines-free forever" library and establishing an Anti-Black Racism statement and staff education.
Devoted Service to Burlington Residents
Library Board members are volunteers appointed by Council for a four-year term, with a duty to represent the community and make sure the Library is financially accountable to taxpayers and City Hall. While the pandemic demanded everyone to adapt to extraordinary change and an uncertain future, Catharine worked tirelessly with her Board team and Library senior managers. She made sure Burlington Public Library continued to use its resources wisely and set a clear direction for future library services in our community.
Noted for her dedication, effort, commitment, passion, time, energy, and most of all, leadership Catharine has helped make Burlington a better place to live, play, and work.
That she accomplished all this while balancing her other roles as a parent, partner, entrepreneur, daughter, neighbour, and Pineland Public School volunteer earned Catharine this exceptional tribute as a Community Hero. We heartily applaud her commendation!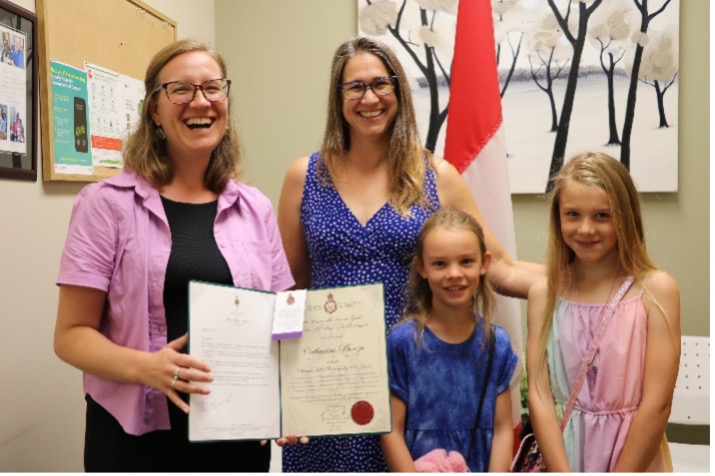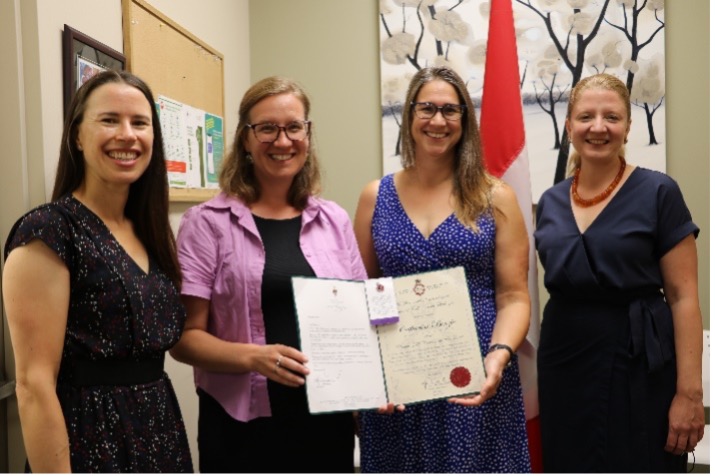 Award Received With Daughters at Her Side
Since Catharine wasn't able to attend the official ceremony in July, Minister Gould presented her award certificate and Platinum Jubilee pin last week at her office. Catharine's daughters, Elizabeth and Rebecca, Board member and nominator Lindsay Zalot, and BPL CEO, Lita Barrie, were on hand to cheer a much-deserving winner!