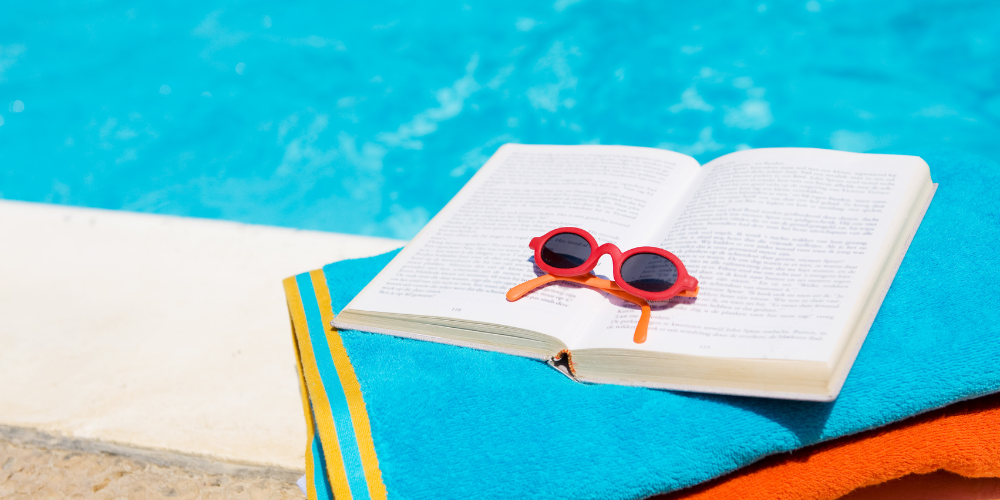 Taking Care of Your Library Books
Many of our Burlington Public Library members enjoy a good beach read…but sometimes taking a library book on vacation can become a bit too much beach for your read. Exposure to sand, moisture, sunscreen, and other spills can damage a book to the point that it has to be repaired or even replaced. Help us make the most of our book-buying budget by taking excellent care of your library books.
"We recently discovered a returned book that was full of sand," says Cody Vanderslot, Manager of Digital Resources & Collections. "We were able to clean the book and replace the protective jacket, but this was a good reminder that our customers could use some advice for caring for books while travelling.
Here are some tips for keeping your books in good condition when you travel.
Library book dos
Taking a library book with you while you travel? Consider bringing a dedicated clean, dry bag to store your book in. This will prevent scuffing and protect it from spills in your suitcase.
Bring a bookmark! We ask that you use a bookmark to keep track of your place rather than "dog-earring" a book by folding over the page you've left off on. This keeps the pages in good condition for everyone to enjoy.
Keep track of your book. Make a list of any books you have brought with you and save it in your smart phone or wallet. Choose a spot in your luggage where you will store your books so you can easily find them when you return home.
Tell us if you have a mishap. We understand that things happen. If your book gets damaged, please let us know when you return it. We will assess the book and repair it if we can. If the book is damaged beyond repair, you may be charged a replacement fee.
Library book don'ts
Paper is not a fan of moisture. Please keep your books out of damp places like bathrooms or saunas. Reading poolside? Dry your hands before reading and keep your book in a bag like we suggested above.
Avoid dirt and sand. We'd rather not receive souvenirs from your beach vacation in the form of sandy book jackets. Keep your book off the sand, and avoid storing it in a bag with sandy towels etc.
We're all for sharing, but you are ultimately responsible for your library books. If you pass a book you've borrowed onto a friend, and they damage or lose it, you are on the hook.
Sipping a cocktail while you read poolside? Please don't use your book as a coaster! Do everything you can to protect your book from spills and drips. The same goes for crumbs and food spills.
Let's make our books last longer!
We love that you love to read. Help us stretch our book budget as far as possible by taking good care of your library books both at home and on vacation.
"Keeping our collection in good condition is a group effort," says Vanderslot. "We really appreciate the care everyone takes with their books and hope these tips remind you how to prevent damage.
When we need to replace a damaged book, that is one fewer book we can purchase for our collection. We do our best to purchase as many titles and copies as we can and need your help to do that.