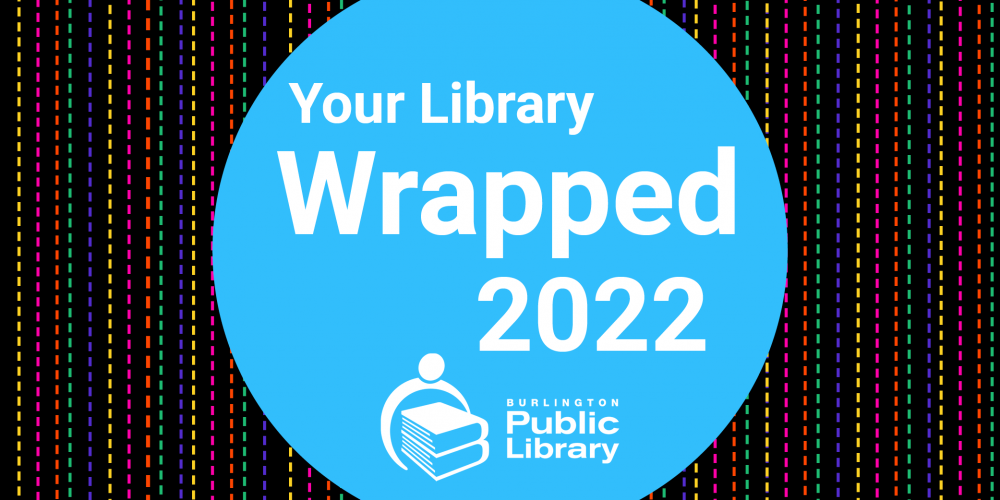 Your Library Wrapped 2022
As we wrap up another great year at Burlington Public Library (BPL), let's take a deep dive into how you used your library in 2022! We celebrated our 150th year with special events, the return of in-person programming, and, of course, a LOT of reading! Scroll to the bottom to watch our Wrapped video on TikTok.
Beyond Books
Burlington is a city that loves books, and we're so proud to see our circulation numbers continue to rise year-over-year. Our stats show us that if Burlington was a person, they'd be an armchair detective, with mysteries topping our adult fiction charts. Diary of a Wimpy Kid reigned supreme for kids, and Burlington teens reached for fantasy novels most often.
Borrowing By The Numbers
Total books borrowed: 1,186,796
Most popular authors, adult: James Patterson, David Baldacci, John Grisham
Most popular authors, teen: Sarah J Maas, Leigh Bardugo, Suzanne Collins
Most popular authors, children: Geronimo Stilton, Jeff Kinney, Dav Pilkey
Top adult fiction: The Maid by Nita Prose, The Dark Hours by Michael Connelly, Apples Never Fall by Liane Moriarty
Top non-fiction: The Palace Papers by Tina Brown, Freezing Order by Bill Browder, Vanderbilt by Anderson Cooper
Top kids books: Diary of a Wimpy Kid: Cabin Fever by Jeff Kinney, Diary of a Wimpy Kid: Double Down by Jeff Kinney, Diary of a Wimpy Kid: The Getaway by Jeff Kinney
Top book formats: 77% physical books, 15% ebooks, 8% audio books
Most borrowed non-reading items: DVDs, CDs, video games
Top DVDs: No Time to Die, Belfast, Dune
Most borrowed other items: Chromebooks, Launchpads, script music
Most used digital resources: OverDrive, PressReader, Hoopla
New OverDrive users: 3,317
Top digital magazines: Us Weekly, The Economist (no longer available), HELLO! magazine
Programs & Events
In 2022, we also celebrated the return of in-person programming, after a two year hiatus. We continue to offer virtual events, and the numbers show that our community appreciates having both options. Our second Annual Burlington Literature Festival was fully hybrid, with a mix of in-person and virtual events. We partied it up at Central TWICE this year, with our 150th Birthday Celebration and the first-ever Library After Dark night for ages 19+.
Events By The Numbers
Top virtual events: Reconciliation Talk with David A. Robertson, Meet the Author: Linwood Barclay, Meet the Author: Lawrence Hill
Top In-Person events: Stories & Songs with Susan Aglukark, Canadian War History with Tim Cook, In Conversation with Elamin Abdelmahmoud
Top kids events (not including Storytime!): Sciensational Sssnakes, Hip Hop Dance Workshop, Green Thumbs
Total hours of storytime: 620
Website & Social Media
Earlier this year, we launched BPL News & Reviews, a section of our website with stories, tips, book reviews and more. On BPL News and Reviews, you'll find thoughtful reading recommendations from our librarians, tips to make the most out of library resources, and updates on the exciting stuff happening at all of our branches.
It was also a big year for our social media; whether we were dancing with book carts for Pride month or showing off the amazing stuff you can create in our MakerSpace, you liked, viewed, and regrammed our content almost twice as much as you did in 2021!
And finally, you share your opinions with us plenty this year in our Customer Satisfaction Surveys, Summer Reading Club survey and more. Thanks for all your input.
Engagement By The Numbers
Top BPL news stories: The Librarian's Nightstand, Demystifying the MakerSpace, Recognize Orange Shirt Day at BPL
Most popular booklists: If you liked….Inspector Ganache, CBC Canada Reads 2022, YA Books from a Male POV
Top Instagram Reels: Pride book cart dance, quiet pods, birding kits
Top TikToks: Pride book cart dance, Ella's pride picks, library savings
Top Instagram posts: Library After Dark, MakerSpace Giftables, Elamin Abdelmahmood
Top Facebook posts: BPL 150th, MakerSpace Laser Cutter, 1000 Books Before Kindergarten completion
Total number of survey responses: 5100+
It was an outstanding year, and we couldn't have done it without YOU! Thank you, Burlington, for making us a part of your story. Wishing you another year of great books and more!