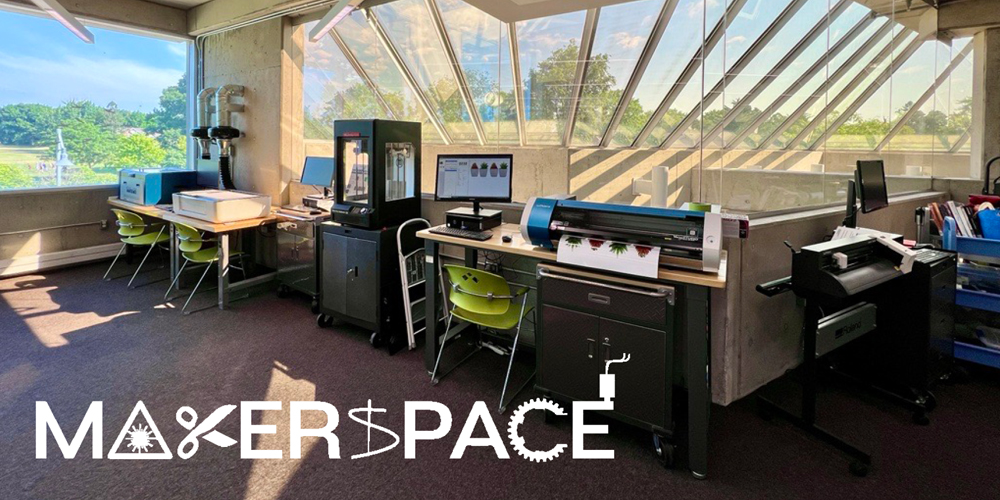 Demystifying the Makerspace
If you've never ventured into the Makerspace on Central's 3rd floor, the space and equipment inside may seem mysterious or even intimidating. But it's easier to use than you may think! So, let's take a quick tour behind the Great Glass Wall.
It's a Fabrication Lab – Everyone is Welcome!
The Makerspace at Central is a community place where you can design and produce things using equipment most of us don't have at home. Maybe you want a special date etched on a tumbler, a stencil to make a sign, or a monogrammed pillowcase? You can create it here! You don't need to be a library member to use the equipment.
And here's more good news: you also don't need to know how to use the equipment. We have expert staff ready to help bring your creative ideas to life. You can decide how involved you want to be in the fabricating process.
"Everyone starts out as a beginner," says Ryan Miller, Makerspace Coordinator. "We are here to help you create and learn."
Arrive with an idea, leave with a creation
You can bring a design on a USB stick, all set for us to manufacture. Or, you can develop your project onsite and participate in its production. So, if you can dream it, let's find a way to design and make it—together.
We get lots of questions about our Makerspace equipment. Here's a rundown of the equipment we currently offer. When you're ready to start a project, you can find all the equipment specifications, software technology information, and the materials price list on the Makerspace web page.
LASER CUTTER
It's like a printer that draws with a laser beam instead of ink. The laser cutter is connected to a computer that reads an image file created with graphic design software like CorelDraw or Inkscape. Then, a laser beam cuts the image from or engraves it onto a surface—such as wood, glass, acrylic, leather, or fabric. There are endless possibilities to make beautiful things using this machine! You can make stamps, signs, ornaments and more!
VINYL PRINTER & CUTTER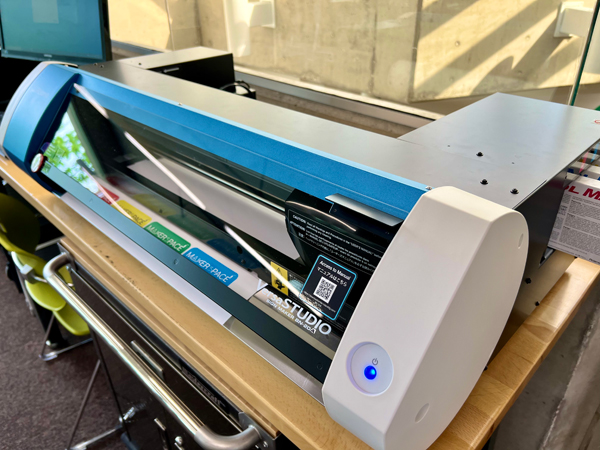 Think of window decals, iron-on transfers for t-shirts, or peel-and-stick lettering and labels, and you'll understand why our combination vinyl printer and cutter is so popular! This machine does double duty! It can print in full colour AND cut five types of vinyl-treated material. Bring a digital image and we can make a vinyl printout.
3D PRINTER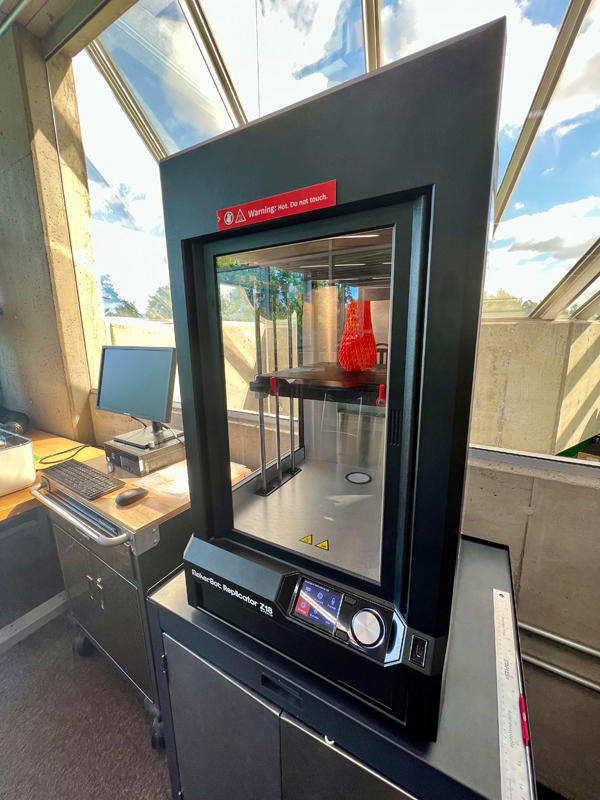 This machine makes a printout of a three-dimensional design. Most of the projects made in our lab are created from design files that are available free on the Internet, so no computer or design experience is required. As the computer reads the design file, the printer makes a 'printout' by pushing a plastic thread through a hot nozzle. It carefully pipes the design in hundreds of layers of heated plastic that cool into a hard, three-dimensional object. If you're looking for inspiration, check out the Tinkercad project gallery. Printing even a tiny item takes many hours, so project size is limited to what can be completed during our open hours. You'll need to attend a brief introduction session if you plan to use your designs with our printer. 3D printing is an exciting technology—we're here to help you try it.
EMBROIDERY MACHINE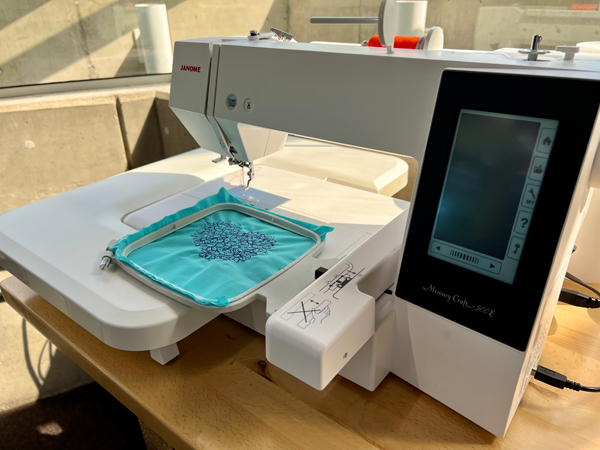 Hand embroidery is a skill that can take years to master. Not so with machine embroidery. This sewing machine makes surface designs with thread on cloth—all at the press of a button. Many designs are already programmed into the machine, and thousands of free ready-to-use patterns are on the Internet. You choose the design and colours, and we'll thread the machine. Sit back and relax as it reads the digital file and stitches the pattern. We offer an optional instructional session if you want to use the embroidery machine on your own. Of course, you're always welcome to drop by when the Makerspace is open, and we'll get you started.
LARGE FORMAT PRINTER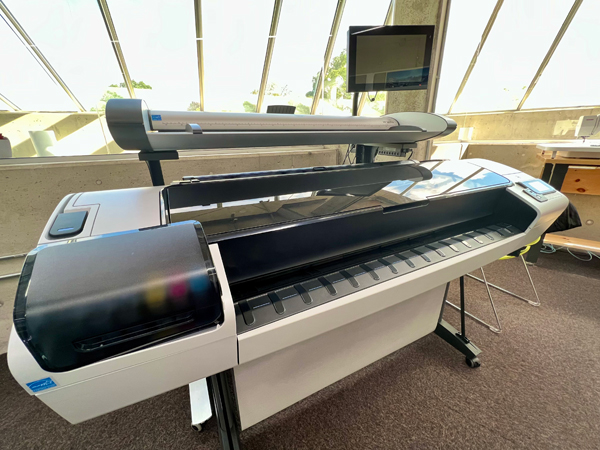 This jumbo-sized printer/scanner produces high-resolution colour printouts up to 42" wide. So, when you're tired of looking at bare walls, head into the Makerspace with old maps, vintage posters, or favourite photos, and create some beautiful wall art! Remember, you must follow copyright laws when using the library, so make sure you have permission to print an image. You can find hundreds of open-source artworks online that you can download for free! We also have a large-bed scanner to create a digital image from a photo or a drawing.
Create, Invent, Learn & Build Skills for Life
Bring your creative vision to life, and learn new skills along the way. This is what the Makerspace is all about. Next time you're at Central Branch, we hope you'll drop by. Our Makerspace team is always happy to show you around and show off the equipment. "Our team loves to help customers bring their vision to life," says Miller. "We can't wait to see what you are making!"
We welcome walk-in customers with their projects, but please keep in mind that pre-booking the equipment is the best way to guarantee uninterrupted maker time.