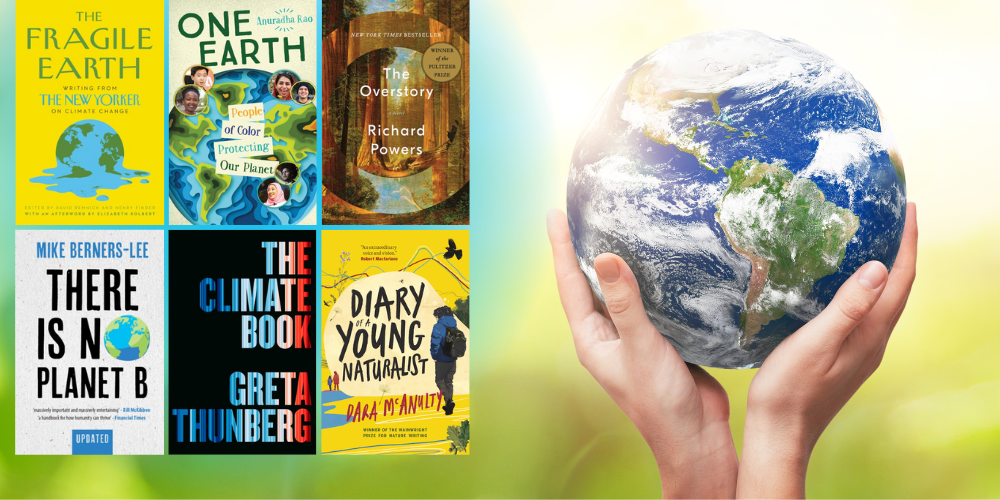 Earth Day on April 22 is all about how we—individuals, organizations, and municipalities—can collectively take action every day to create a healthier environment. Global problems like climate change may seem unbeatable, but Earth Day reminds us that we all have an essential part to play in making a positive impact on the environment. For Burlington Public Library, "think globally, act locally" are inspirational and aspirational words. At the centre of taking climate change action, we are committed to advancing environmental literacy in our community and operating as a responsible global citizen.
Growing Environmental Literacy
Among the various 21st-century literacies BPL strives to help develop and support is fostering an understanding of our natural world and the conditions that affect it. This is environmental literacy. We are continuously improving our collection of topical and timely books and online resources you can freely access to help you learn about the environment and understand the various aspects of climate change. Explore nature and science non-fiction titles on OverDrive/Libby. Sign in to Kanopy with your library card number for instant access to a vast selection of documentaries on topics such as environmental sciences, farming and food production, earth science, and the animal kingdom
Kids are always eager learners when nature, conservation, and environmental themes are explored during Story Scientists, STEAM Starts with Science, and STEM. These programs regularly include stories and hands-on activities that teach children about our natural world. In addition, we are fortunate to partner with several local organizations, such as Conservation Halton, BurlingtonGreen, Bay Area Restoration Council, and Halton Region, who present fun and educational programs at the library.
To further support your environmental literacy, we have also expanded our services and collections beyond books with:
Community Access Passes to Ontario Parks, Conservation Halton, and Royal Botanical Garden to increase your connection to and appreciation of the natural environment. And while you're out enjoying the delights of nature, wear a fitbit to track your health and fitness levels!
Kill a Watt electricity usage monitors to help you discover how much electricity plug-in appliances use throughout your home.
Birding Kit backpacks stocked with everything you need to get started watching wild birds in their natural habitat.
BPL's Seed Library is another way our collection supports residents who want to live more sustainably by growing and preserving their own food. By offering free seeds to borrow and grow, along with seed-related programs, we aim to help build awareness of the complete growing cycle and promote gardening as a healthy, enjoyable, and rewarding pastime for people of all ages and abilities.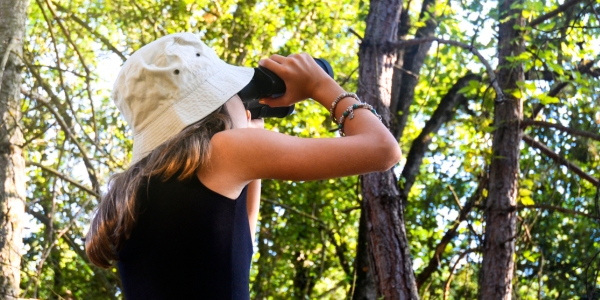 Greening the Library
Running an environmentally friendly library is a top priority for Burlington Public Library. We aim to keep improving our green business practices and introducing initiatives that result in energy, waste, and consumable savings. From big projects like carbon mapping to inform a plan to reduce our carbon footprint, retrofitting our buildings with LED lighting, and utilizing energy efficient and automated building control systems—to smaller projects such as placing recycling and composting bins everywhere, using green maintenance supplies and High-Efficiency appliances, and being community battery recycling depots—we are working to enhance community well-being every day.
This Earth Day
We're thrilled that earthday.ca, the official site of this observance, recommends "reading a book" as an Earth Day at home environmental action you can take—and we heartily agree! Check out our latest Climate Change & Environment an Eco-fiction curated booklists and other environment and nature Staff Picks lists for suggested reads. For school-age children, Story Scientists is all about Earth Day on Saturday, April 22. Register to attend at Brant Hills or Alton branch.
Looking for more Earth-friendly activities? Take a look at other Earth Day events happening in Burlington.