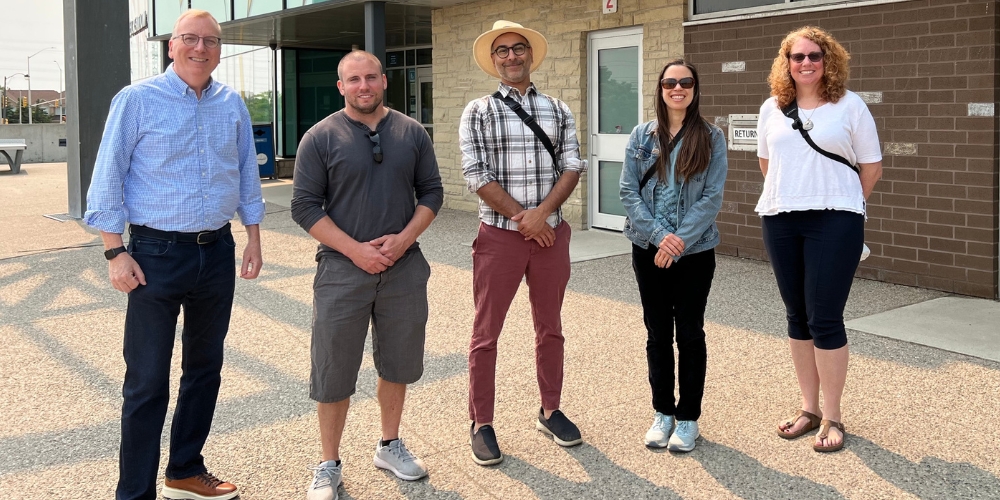 Burlington Public Library is thrilled to welcome the Library Board of 2023-2026. These dedicated City Council-appointed volunteers represent Burlington residents and make sure that library services are delivered efficiently and effectively and reflect our community's needs.
Returning for their second four-year term are newly elected Board Chair Jennifer Tarnawski, Vice-Chair Jason Manayathu, and Lindsay Zalot. They are joined by new members Ashley Cameron, Shayne Lemieux, Akindayomi Odedeyi, and Ward 2 Councillor Lisa Kearns. In the photo, left to right, are Ashley Cameron, Shayne Lemieux, Jason Manayathu, Lindsay Zalot, and Jennifer Tarnawski.
A Heartfelt Thanks
The Library Board wishes to recognize their former colleagues who helped guide and support Burlington Public Library over the past term: Catharine Benzie, Brian Kenny, Nawaz Noormohamed, and Councillor Shawna Stolte. In particular, we are deeply grateful to Catharine Benzie and Brian Kenny for their devoted and exceptional leadership of the BPL Board. Catharine and Brian joined the Board in 2014, each serving as Vice Chair and Chair for many years. BPL staff and managers sincerely thank all our Board members for their unwavering and enthusiastic support and commitment to the public library and our community.
A Memorable Term
Highlights of the many accomplishments over the 2018-2022 Board term include:
Keeping core library services always running throughout the COVID-19 pandemic while prioritizing community and staff safety.
Expanding library open hours across the system.
Eliminating daily overdue fines forever and giving all BPL members a once-in-a-lifetime fresh start in December 2020 by waiving all unpaid fines and fees.
Improving access to the library through technology and facility upgrades.
Working with the City of Burlington, Brock University, and Halton District School Board to create a new and vibrant learning and recreation centre in the southeast community.
Hosting a year-long celebration of Burlington Public Library's 150th birthday.
Read more about the Board's work in past annual reports: 2018, 2019, 2020, 2021, and 2022.
One More Thing
And being a library, of course, we asked our Board members—all book lovers, too—to share some of their favourite reads with us before wrapping up their final term!