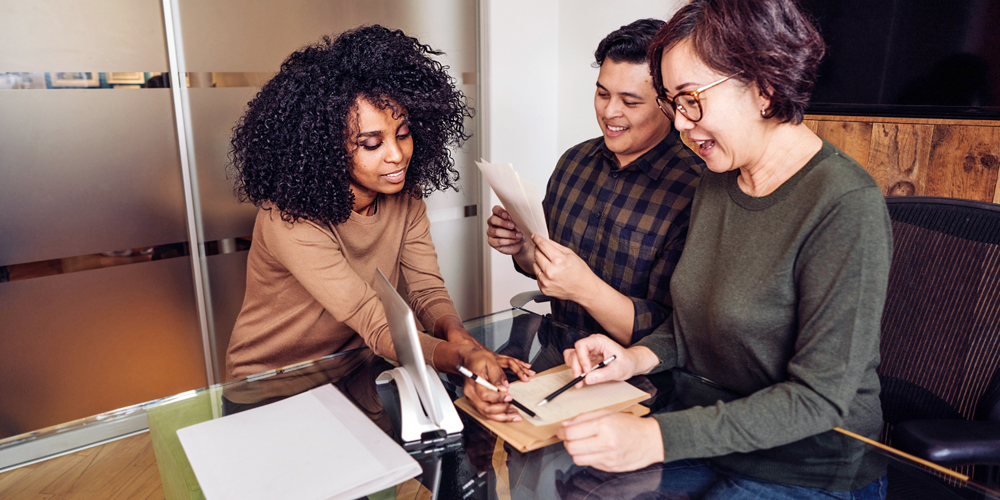 New Drop-in Help at the Library
When you don't know where to turn for help, we can connect you with services in the community to answer your questions and lend support.
Burlington Public Library is home to a wide variety of drop-in sessions where you can get immediate and personal help with your legal, housing, parenting, job search, and pension questions—and lots more. We've partnered with several local organizations to bring their expertise into our library.
Drop-in Community Support
Come on in for help on a first-come-first-served basis. There is no need to make an appointment. Unless stated, community drop-in programs run continuously throughout the year. View all the upcoming drop-in sessions for exact dates.
Service Canada
Get one-stop access to various federal government services at our weekly clinic. Get help applying for a same-day Social Insurance Number and getting your Employment Insurance and Canada Pension Plan/Old Age Security questions answered, and much more.
Where & When:
Central Branch – 1st & 3rd Thursday every month, 12:30pm to 4pm
Alton Branch – 2nd Tuesday every month, 12:30pm to 4pm
Tansley Woods Branch – 4th Monday every month (except December), 12:30pm to 4pm
Big Brothers Big Sisters
Starting September 5, learn about the various Big Brother/Big Sister program opportunities, how to enrol a young person, or apply to become a volunteer mentor.
Where: Central Branch
When: Every Monday, 1pm to 3:30pm & Every Tuesday, 9:30am to Noon
Help with Housing
Are you looking for an apartment or a room to rent in Halton? Do you have concerns with your landlord? Get advice from Halton Housing Help during this drop-in session.
Where: Central Branch
When: Every Tuesday, 9am to 1pm
Employment Services
Learn how to plan your job search and find work with help from an employment specialist from Goodwill Employment Services. Find out if you are eligible for a skills training program and learn more about Employment Ontario and the Ontario Disability Support Program (ODSP).
Where: Central Branch
When: Every Wednesday, 10am to Noon
Ask a Legal Worker
Drop in with your questions about Ontario Works, human rights, tenants' rights, disability benefits, government pensions, and employment insurance or standards. Come for one-to-one help with a Halton Community Legal Services worker.
Where: Central Branch
When: 2nd Wednesday every month, 10am to Noon
Help for Newcomers
When you are new to Canada and need to know the first things to do to live in your new country, drop in to meet with a settlement worker from HMC Connections. Get help with government forms, translation, and citizenship or permanent resident status information.
Where: Alton Branch
When: 2nd Wednesday every month, 10am to 1pm
Résumé Review
Get advice on creating and updating your résumé with Goodwill Employment Services.
Where: Central Branch
When: Last Wednesday every month, 10am to Noon
ROCK REACHout
Bring questions about your child's behavioural, social and emotional development and well-being to this informal chat session with the Early Years team from Reach Out Centre for Kids (ROCK). Hear about ROCK's programs and services that support parents and caregivers of young children.
Where: Central Branch
When: Every Thursday, 9:30 to 11:30am
We're Here to Help You
Don't worry! Our Information Burlington staff are still available for support and referrals to community services. If you have questions, let's talk! You can call the library's main phone number at 905.639.3611 during open hours or email our Information Burlington coordinator. We aim to reply to you within two working days.
While you don't need to be a library member to use any of these free community drop-in services, your visit is a great time to explore what else the library has to offer. Anyone who lives, works, or studies in Burlington can get a free library membership to borrow items and use our online tools.