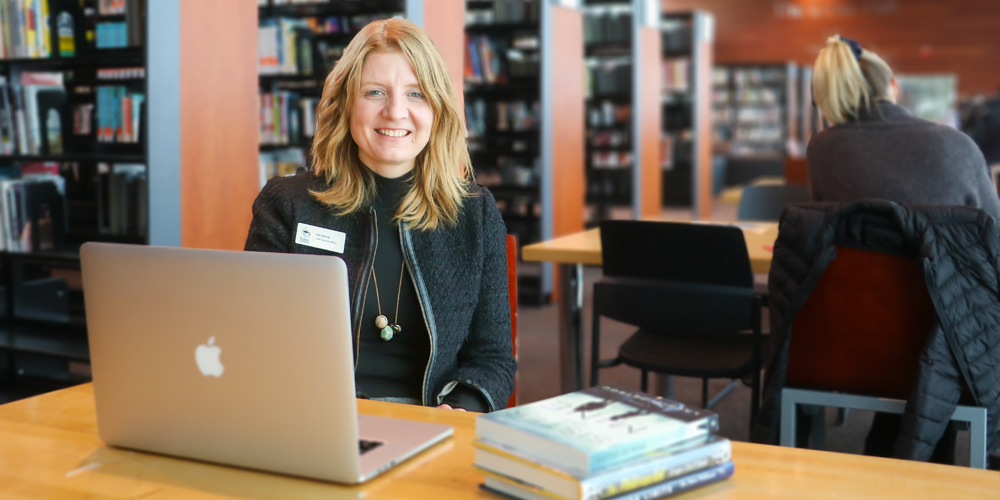 The CEO's Corner – Summer 2023
It's the start of my favourite library season, Summer Reading!
Every summer, public libraries across Canada, with support from TD Bank, focus on celebrating the fun of reading and the value of making reading a habit with kids and families.
At Burlington Public Library (BPL), we want to make sure everyone can get in on the fun and invite people of all ages to join our Summer Reading Club. Come visit us in person or participate online—the choice is yours. If you're curious about the benefits of SRC, be sure to check out these Five Reasons Summer Reading Club is for YOU!
Our branches will be running free programs for all ages this summer. We are thrilled to be reintroducing our popular Maker Buddies program at Central and Alton Branches, we've got drop-in storytimes and puppets shows across Burlington, and we're offering some excellent adult programs like Saving Seeds from Your Garden and The Laws of Cycling. It's hard to believe that just over a year ago, we were reintroducing in-person programming in our spaces. This summer, we have a full calendar of fun with something for everyone!
Freedom of Expression at Your Library
While we gear up for a fun and carefree summer, I'm reminded that our responsibility as a library goes far beyond fostering a love of reading. Across the United States and increasingly within Canada, public and school libraries are seeing challenges from all sides of the political and social spectrum regarding programs we host, books we loan, and services we provide.
Intellectual freedom is one of BPL's core values. Intellectual freedom means we each have the right to read, seek information, and speak freely, as protected in the Canadian Charter of Rights and Freedoms. Public libraries follow intellectual freedom policies that prioritize access to information. Our mission at BPL is to inspire imagination, collaboration, and compassion to support an informed and literate society. One of the main ways we do that is by providing access to a wide variety of books that invite people to expand their perspectives.
Another core aspect of intellectual freedom is that individuals can choose whether or not to read the books we offer or attend the programs we host. If a person objects to a book, they are free not to read it. But they do not have the right to prevent others from reading it. Parents and guardians can choose what their children read, watch, or listen to but cannot make that decision for other children.
These concepts are simple in theory, but in practice, it can be very complex and challenging to balance our value of intellectual freedom with our value of inclusion. We serve the entire community. Libraries have long been a safe space for people in need of care and understanding. At BPL, we will continue to welcome everyone, without judgment, to pursue their interests at the library. And we will continue to be a safe space for equity-deserving groups that deserve representation and access to information.
Happy 150 City of Burlington
Ultimately, our values of intellectual freedom and inclusion both support a community where diverse voices and perspectives are shared freely and respectfully so we can learn and grow from one another.

As the City of Burlington celebrates the 150th anniversary of its incorporation, we are celebrating how far Burlington has come and where it is going on a journey towards equity, access, and inclusion. As some of you might recall, BPL celebrated its 150th anniversary in 2022. It's amazing to me that our library is one year older than the City itself. I believe this speaks to the deep commitment to learning that is such a huge part of what makes Burlington a wonderful place to live, work and play.
Lita