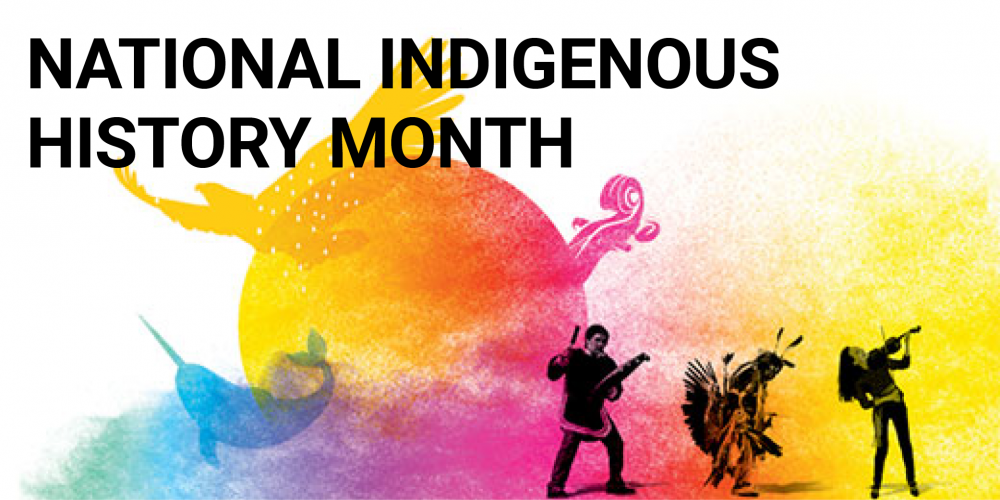 Indigenous History Month at BPL
Throughout the month of June, we honour the history, heritage and diversity of Indigenous peoples in Canada and celebrate the outstanding achievements of the First Nations, Inuit, and Métis peoples.
At BPL, we recognize that we play an important role in educating our community about Indigenous peoples in Canada by amplifying Indigenous voices and making books by Indigenous authors readily available.
Attend Indigenous History Month Events In Person
During Indigenous History Month, we have two special events, one literary and one historical. On June 1, author Amanda Peters will be at Central Branch to discuss her dazzling debut novel, The Berry Pickers. And on June 19, Indigenous historian Hohahes Leroy Hill presents the history of the Haudenosaunee.
The Berry Pickers (June 1, 2 p.m., Central Branch)
Bestselling novelist Amanda Peters talks with award-winning author Stephen Brunt about her critically acclaimed debut novel, The Berry Pickers.
The Berry Pickers is a story about the disappearance of a Mi'kmaq family's youngest child during a trip to Maine in 1962. It traces the devastation of that loss through time, the impact that loss has on a family, and how it is a reflection of the burdens borne by Indigenous people.
History of the Haudenosaunee (June 19, 2 p.m., Central Branch)
Faithkeeper and Sub-Chief of the Cayuga Nation and Bear Clan, Hohahes Leroy Hill shares his deep knowledge of Haudenosaunee languages and culture. He discusses the symbolism behind Wampum Belt design, the significance of Haudenosaunee ceremonies and the duty to honour the long history and proud heritage of the Haudenosaunee people for future generations.
Books from Past Presenters at BPL
Over the past year, we've had many amazing Indigenous authors at Burlington Public Library speak about the importance of Indigenous history and heritage. The month of June presents an opportunity to read their books and learn from their experiences.
Maurice H. Switzer
We are All Treaty People, written by Maurice Switzer and illustrated by Charley Hebert, is a 34-page illustrated history offering students and educators a brief look at the history of treaties from the Anishinabek perspective.
In Living in the Tall Grass: Poems of Reconciliation, Chief Stacey Laforme gives a history of his people through stories and poetry to let Canadians see through the eyes of Indigenous people. This collection carries a universal message that "We should not have to change to fit into society the world should adapt to embrace our uniqueness."
Jesse Wente
In Unreconciled, Jesse Wente uncovers the lies and myths that affect relations between white and Indigenous peoples and the power of narrative to emphasize truth over comfort.
Susan Aglukark
Well known for her Juno Award-winning music, Susan Aglukark has also written a children's book, Una Huna? Ukpik Learns to Sew. It's the story of a Ukpik learning the importance of traditional survival skills for the cold Arctic climate.
Patty Krawec
In Becoming Kin, Patty Krawec weaves her own story with the story of her ancestors and with the broader themes of creation, replacement, and disappearance. She poses the question, What would it look like to remember that we are all related? How might we become better relatives to the land, to one another, and to Indigenous movements for solidarity?
Joseph Dandurand
Kwantlen writer Joseph Dandurand explores the ongoing process of healing through reconnection with family, the natural world, and traditional Indigenous storytelling. In addition to writing award-winning poetry, Joseph Dandurand has also written plays and children's books.
Indigenous History Month Booklists
Indigenous History Month is not only a time to celebrate but also a time to educate ourselves and others about the rich and diverse history and heritage of First Nations, Inuit, and Métis peoples in Canada.
We invite you to check out these booklists curated by BPL staff for more Indigenous History Month books and resources.
Indigenous History Month
Stories and Tales for and about our Indigenous Young Adults
CBC Books: Indigenous Literature
Indigenous Reads for Teens
Indigenous Voices: Staff Non-Fiction Picks
Indigenous Titles Just for Kids