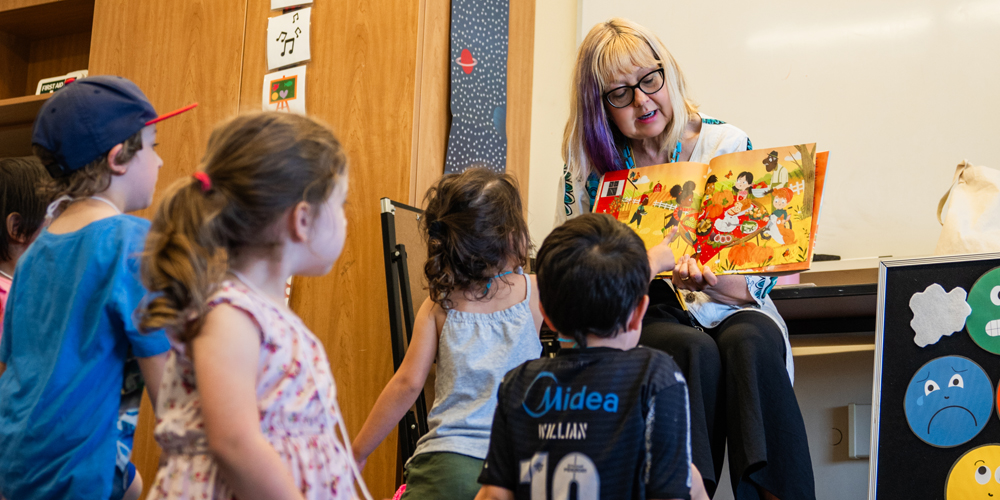 Selecting Storytime Books
When prepping for storytime, our staff have a wonderful collection of thousands of picture books right at their fingertips, but choosing a great book involves a lot more than picking one off the shelf just before the program begins. And with hundreds of new picture books added to BPL's collection each year—along with the nostalgic pull of childhood favourites and classic stories—selecting the perfect book for storytime is no easy task.
Five Essential Ingredients
When choosing a great book to read aloud at children's storytime, we consider five key elements: theme, developmental appropriateness, language, images, and inclusion.
Theme
The easiest way to narrow book selection is by theme. Themes include topics kids are familiar with and interested in, such as families, daily routines, nature, emotions, and transportation. We don't announce the storytime theme, but we always have one! So, next time you're at a storytime, see if you can figure out the theme based on the books we read, as well as the songs, rhymes, and activities.
Developmentally Appropriate
Choosing books within a child's social/emotional and cognitive development is crucial. Of course, every child develops at different rates, so we look for books that work best for babies, toddlers, and preschoolers, fitting the three main storytimes offered at BPL.
Babies (0-12 months) for Baby Rhyme Time
high-contrast books with bright colours
minimal text, only 1-2 words, sometimes no words and only images
babies love real photos of babies and faces
board books with thick pages that can be easily grasped and moved
Check out Peekaboo Morning by Rachel Isadora
Toddlers (1-3 years) for Tales for Toddlers
interactive books where toddlers can participate and move along
slightly more text, 1-2 sentences on each page
pictures of everyday places and objects that they can identify
Check out Little Owl's Day by Divya Srinivasan
Preschoolers (3-5 years) for Family Storytime
longer books with more detail and description
several sentences on one page with exciting vocabulary, often with humour and more complex ideas
subject prompts discussion, which helps practice language skills, listening skills, and learning to take turns
Check out If You Were A City by Kyo Maclear
Interactive Language
We carefully consider the language used in the storytime books and pick those that will delight the listeners and offer plenty of opportunities for the storyteller to connect with their audience. Interactive language may include alliteration, tongue twisters, rhymes, and—a big hit with our storytellers—onomatopoeia (when a word represents a sound, such as "buzz" or "vroom").
Top of mind are questions like, is there a fun, repeating phrase that everyone can say together? Are there actions that everyone can do together? Are there any animal sounds? Or a line we can sing together? Is there a rhythm that everyone can clap together or babies to bounce to?
Using playful and interactive language helps babies engage with different sounds and develop their attention span and children with language pattern recognition. And for all ages, interactive participation helps build confidence and motor skills and makes reading and listening fun.
Check out Chicka Chicka Boom Boom by Bill Martin
Illustrations
Not all illustrations are created equal. Some illustrations are perfect for snuggle-up reading, such as very busy pictures or those with muted colours or lots of detail. Illustrations that are bright and clear with easily recognizable pictures are ideal for grabbing children's attention. Storytime is hugely popular at Burlington Public Library, drawing crowds of dozens of kids and their caregivers at our neighbourhood branch, and sixty or more are our larger locations. So, we must pick books with colourful pictures that kids can easily see.
Check out I'm the Biggest Thing in the Ocean by Kevin Sherry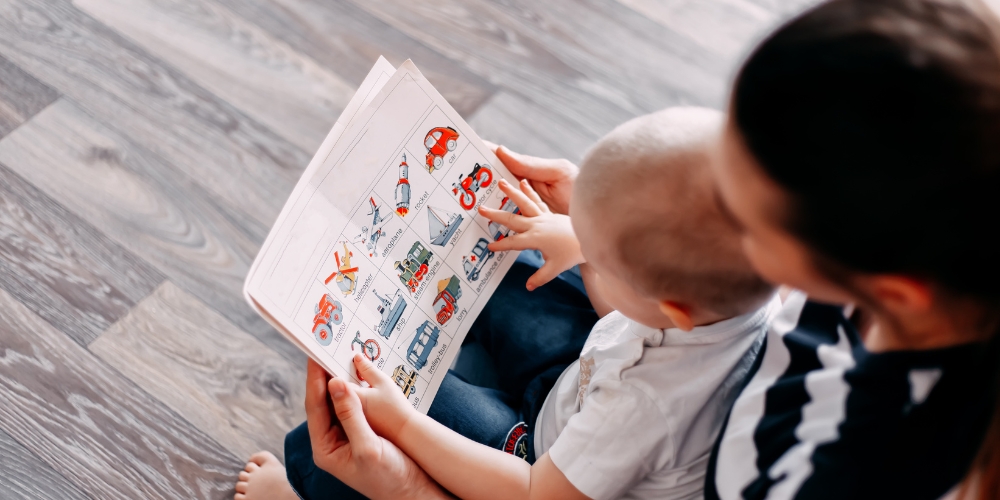 Inclusivity & Diversity
We are fortunate to live in a diverse community where people of all cultures are welcome— so the books we read in storytime must reflect our audience. Exposure to multicultural literature reflects the experiences of others in our community and helps children learn about cultures and experiences different than their own. 
Check out Families, Families, Families by Suzanne Lang
And One More Thing
The best books are fun to read! Storytime is about showing others that reading is a source of pleasure. When the storyteller enjoys the story, too, their enthusiasm helps instill a love of reading that little ones and caregivers will carry on at home.