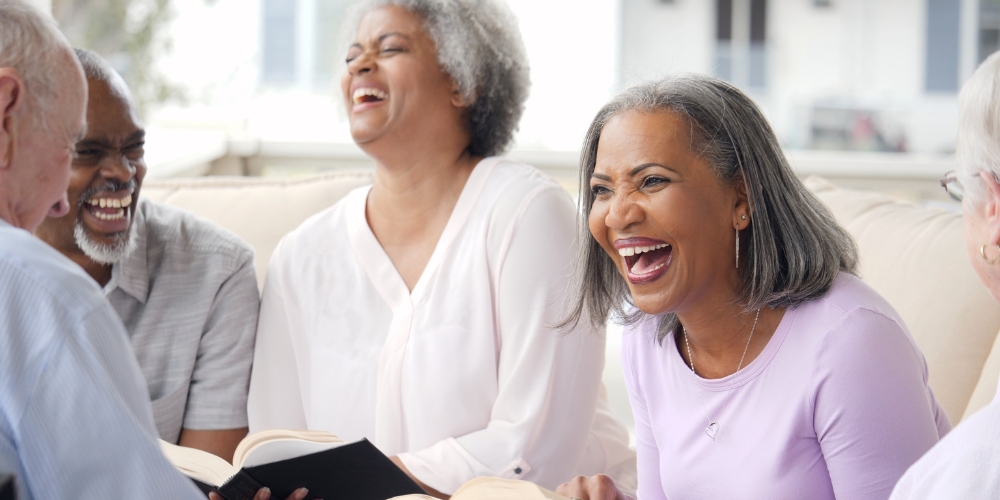 Celebrating Older Adults at BPL
June is Seniors Month! During this time, we recognize our amazing older Ontarians and their contributions to communities across the province. Check out what Burlington Public Library has to offer older adults during Seniors Month and all year round!
Programs & Activities
Library programs are a great way to connect with the community and socialize with new friends. Plan to join us for in-person events with special guests, plus the resurgence of an old favourite.
Resource Fair for Older Adults
Hear about services and programs for aging adults in presentations by local government and non-profit organizations, followed by an opportunity to chat with them and gather information. Get informed about health and safety, in-home care, pensions, recreation, and transportation.
Afternoon at the Movies
We're celebrating actors in their golden years with a special month-long series of afternoon films on Central's big screen. Join us each Tuesday in June to watch a screening and connect with peers.
Using Cognitive Care Kits
In this small group educational session with the Alzheimer Society, learn about Burlington Public Library's collection of Cognitive Care Kits you can borrow and take home. These kits are designed to meet the needs and interests of people in different stages of dementia and contain an assortment of prepared activities, games, and workbooks.
Exploring (New to You) Library Resources
We often hear from customers that they visited the library frequently when they had a young family and then got out of the habit. Come on back! Whether you're newly returning to the library or already consider yourself a super-user, now's a great time to check out some popular options for older adults.
MakerSpace
Our MakerSpace is a do-it-yourself studio where you can create designs and use the equipment to complete your projects. It's located on the third floor at Central Branch. Equipment includes a 3D printer, laser cutter, vinyl printer, embroidery and sewing machines, and more. The best part? Our knowledgeable staff are always on hand to help you through your project.
Local History Services
Burlington Public Library has long valued preserving the local history of Burlington and its surrounding areas. You can access our collection to research your home, your family history, and more! You can also explore our digital archive online and connect with our Local History & Digital Archive Coordinator for guidance.
Online Magazines and Newspapers
Enjoy a leisurely read with your coffee or tea! We've got magazines and newspapers to read in our branches, but you can also enjoy this service from home. Your library card gives you access to online newspapers and magazines from PressReader, OverDrive, and The New York Times. Explore your options, and then create a login using your BPL card number to start reading. You can read in a web browser on your desktop or download an app for an even better browsing experience.
Of Interest Around Burlington
To celebrate Seniors Month, the City of Burlington offers various activities for community members 55+ to enjoy. Check out the City's website to learn more about programs for seniors.
The Halton Community Services Database has an online portal for seniors called the Halton Seniors' Services Directory. Here you can find support services, cultural and lifestyle events, health guidance, and organizations with volunteer opportunities!
Read – Watch – Listen
Interested in connecting more with our collection? Check out these fantastic Staff Picks lists: