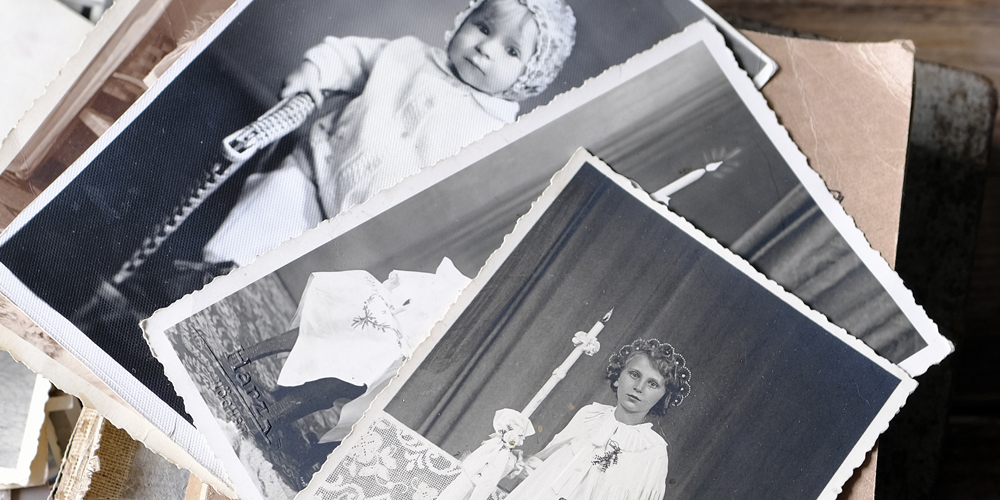 Research Your Family History
Celebrate Family Day by exploring, sharing, and preserving your family stories for future generations to come. If you would like to research your family history, BPL has several resources to help you get started. Dust off your family heirlooms and be inspired by these online resources curated by our Local History & Digital Archive Coordinator.
Getting Started
If you aren't sure what specifically you're looking for, it is best to start with a general search and then find other tools to narrow your focus. The following databases are a good launch point.
Most of the larger North American databases focus on euro-centric settler history and lack records for various ethnic groups. We have included collections of smaller databases that focus on specific ethnic groups.
Archives of Ontario
This is a great place to start if you don't know where to start! Archives of Ontario provides a step-by-step list of how to start exploring your family history. It also includes links and tips to access records such as Ontario Vital Statistics, church records, cemetery transcriptions, estate files, immigration records, and land records.
Ancestry Library Edition
Ancestry Library Edition is available for free at all Burlington Public Library branches. Bring your own device or use one of our computers to explore this database. A key resource for genealogical research, Ancestry Library Edition has census information, vital records, immigration and military records, photographs, maps, and gazetteers (geographical indexes). This resource covers Canada, the United States, and the United Kingdom. You can access Ancestry Library Edition only at library branches.
FamilySearch
The FamilySearch database is the largest in the world. BPL is a FamilySearch.org Affiliate Library, providing access to restricted digitized microfilm at all our branches.
Library and Archives Canada
Library and Archives Canada has a large Genealogy & Family History section. You can explore many research tools, such as census indexes and genealogical databases, including military, land, immigration records, atlases, and reference books.
National Archives – ALIC website
The National Archives: Archives Library Information Centre provides a selection of links to websites that support ethnic genealogical research for certain groups.
Uxbridge Public Library
The Uxbridge Public Library in Uxbridge, Ontario, has compiled a selection of sites organized by specific locality and ethnicity.
Burlington History Resources
These resources help you find historical information on places and people within our geographical area, supporting topics such as house and land histories, family names, and Regional heritage.
Vernon's Burlington Directories
City Directories help researchers trace individuals, families, and businesses. You can access Vernon's Burlington Directories in our online database and explore by year for an alphabetical listing of adult residents with their occupations and address.
Tweedsmuir Community History Books
Tweedsmuir Histories provide information on early settlers, agricultural practices and individual farms, local industries, social institutions, and public buildings such as churches, schools, and cemeteries. Compiled by Women's Institute branches to preserve the local history of rural communities, they were made into scrapbooks containing newspaper clippings, photographs, and handwritten accounts. We hold the original scrapbooks the Women's Institute of Aldershot and Nelson Township created. To view digital reproduction copies, visit the Library's Burlington Digital Archive.
Ontario Ancestors: Halton-Peel Branch (formerly Ontario Genealogical Society - OGS)
You can find the index to the Halton-Peel library collection online. It is a searchable listing of physical materials like books, periodicals, and records relating to local history.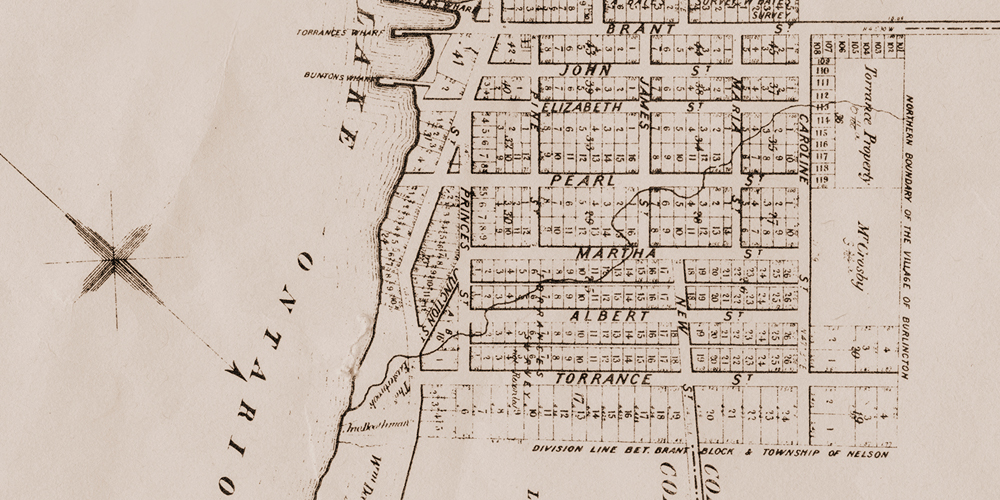 Image source: Historical Atlas of Halton County, Ontario Illustrated, Village of Burlington, 1877. Ralph Smith & Co.
Researching Old News
Newspapers are an invaluable resource for researching your family history. They can add detail and stories that paint a clearer picture of your ancestors than the names and statistics you can find in some directories. The following historical newspapers can be accessed online.
Canadiana
This is a digitized collection of books, government publications, periodicals, and newspapers about Canada published from the time of European contact to the early 20th century.
Democracy at War – Canadian War Museum
Throughout the Second World War, The Hamilton Spectator staff kept its own record of the war, documenting virtually every aspect collected from newspaper stories and editorials. This collection contains subject files on each participating country, armed forces, and major campaigns, as well as information on the political, economic, and social life of Canada. This newspaper collection consists of over 140,000 clippings, arranged by subject and date.
Globe and Mail Historical
This digitized version of The Globe and Mail includes all of the newspaper's sections, images, classifieds, advertisements, births, deaths, political cartoons and more from 1844 to 2016. Available for free at Burlington Public Library, users can browse by date or perform a keyword search.
Halton Historical Records
Search over 500,000 records in Halton from local newspapers, including birth and marriage announcements.