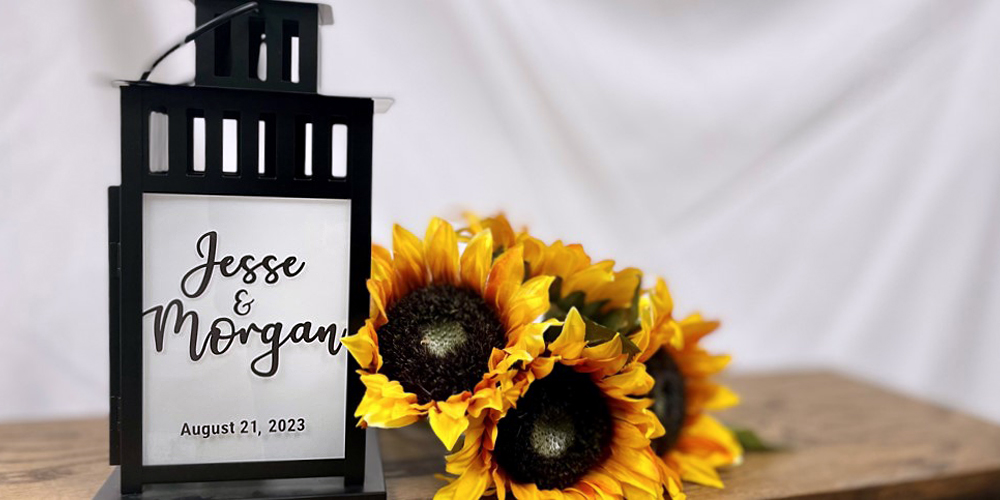 Customize Your Wedding in the Makerspace
With Spring just around the corner, the wedding season will soon be in full bloom. If you are getting married this year, you can add your own flair to the décor using the professional-grade equipment in our Makerspace.
Centrepieces, seating charts, signage, guest books, cake toppers, wedding favours—the list can be as big or as small as you'd like! Are you going for an elegant theme? Rustic? Perhaps some subtle nods to the hobbies, activities, or pop culture you and your partner love? When your guests ask where you got such personalized touches made, they'll be blown away by the fact you created them yourself at Burlington Public Library!
Crafting Your Wedding
The Makerspace at Central branch offers a multitude of options to help bring your design ideas to life. Here are a few examples of things you can create in our community studio.
Table Numbers
Whether they're incorporated into your centrepiece or a stand-alone fixture, table numbers allow you to bring the theme of your wedding to each individual table. We created these two table numbers using our laser cutter. One is cut from birch plywood, and the other is engraved on clear acrylic.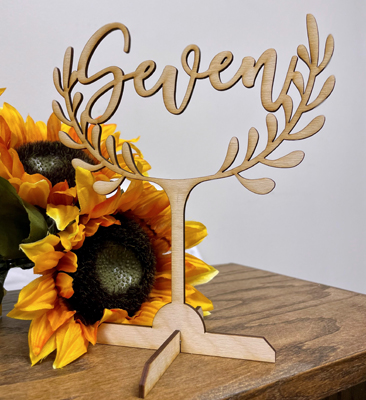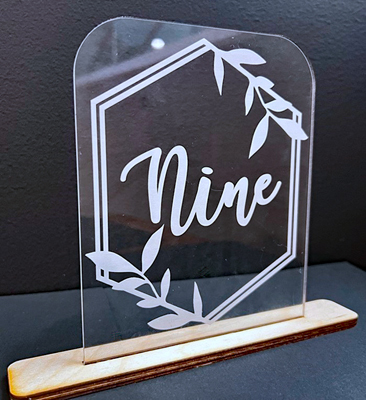 Signage
You may like a sign welcoming your guests to the ceremony. Or perhaps you need signs to direct guests to the reception nearby. You might even want to create a keepsake sign that you can display at your head table, sandwiched between the happy couple. We made both of these signs using the laser cutter, and the framed piece was printed using the vinyl printer with the silhouettes cut on the laser cutter.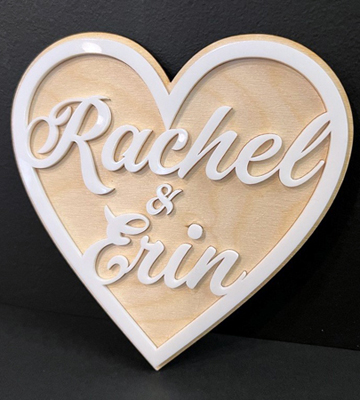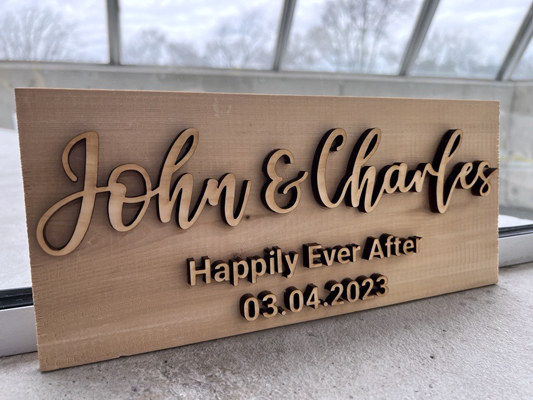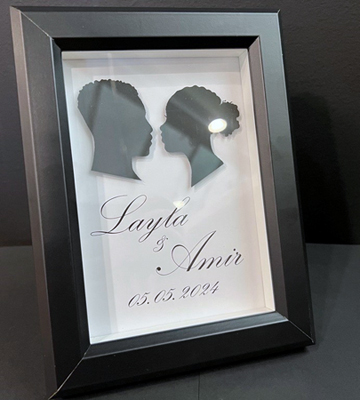 Posters & Photos
Some couples like to share a photo collage with highlights of their journey together. Others have ideas of printing their seating charts to be posted at the entrance to their reception. Even after the wedding, there are so many options for turning your photos into artwork to adorn your walls. Our large format printer has photo paper for enlarging your favourite photos to be framed. The vinyl printer has printable canvas for a sleek and modern-art look. The laser cutter can also engrave photographs into wood to create a unique piece of art.

Centrepieces
Centrepieces can be as extravagant or as subtle as you'd like. Lanterns are a trendy and relatively inexpensive way to add height to your centrepiece. Customized lanterns add a personal touch to the table and are great keepsakes for family members to remember your special day. Your design could be your names, the wedding date with a creative pattern surrounding it, or maybe a character from your favourite movie. This lantern has vinyl printed using the vinyl printer and vellum paper on one side. On the other side, the glass insert was etched using the laser cutter.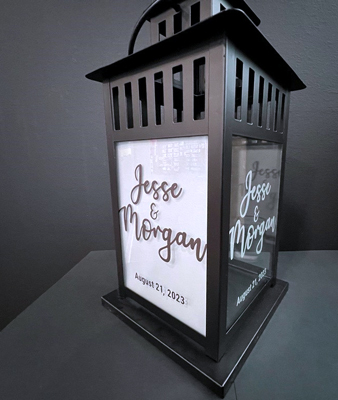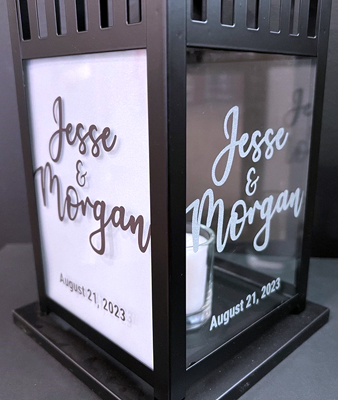 Seating Charts
Big or small, seating charts allow guests to find their tables easily. You can print your seating chart in one piece using our large format printer. Or, if you prefer to go in a smaller direction, these place cards have the name of your guest and their assigned table so they can quickly and easily find their seats at the reception. These were engraved using the laser cutter on birch plywood.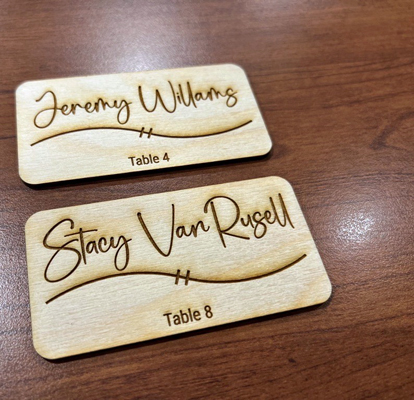 Bring Your Ideas to Us
Check out the latest online bridal magazines for inspiration and visit our MakerSpace web page to learn about the various equipment options, file requirements, and supply costs.
Plan to attend our free Customize Your Wedding in the Makerspace program. We've added new dates due to popular demand!
And don't be shy with your questions. Our MakerSpace staff are always happy to offer suggestions and share their expertise. Call us during studio hours at 905.639.3611 extension 1302 or email us any time.