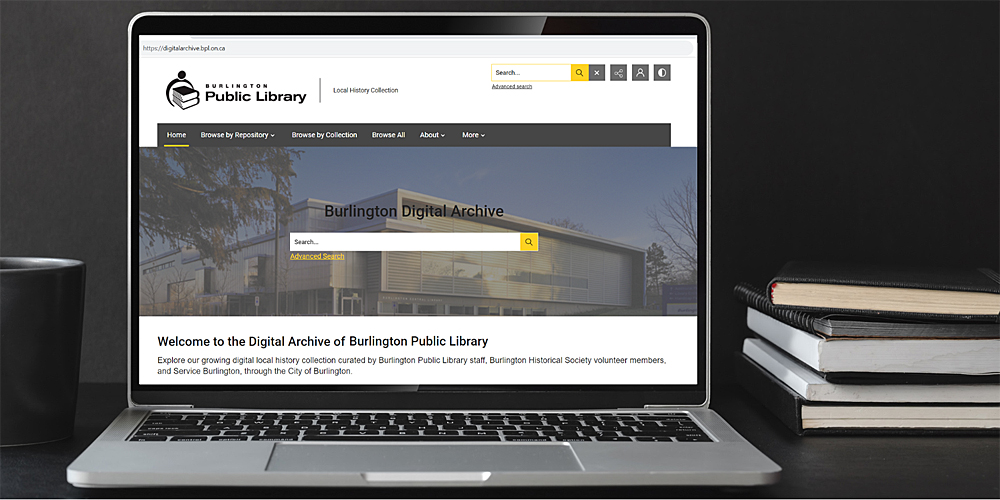 Introducing the Burlington Digital Archive
Burlington Public Library has officially launched the Burlington Digital Archive. This brand-new online portal houses the digitized local history collections of the Library, Burlington Historical Society, and the City of Burlington.
"Burlington Public Library is committed to preserving local history and making our local history collection accessible to the public," says Marisa Purdy, Burlington Public Library's Local History & Digital Archives Coordinator and the lead on this project. "By building our digital archive, we hope the Burlington community will look to BPL as a central resource on Burlington's heritage." Purdy manages the curation and care of BPL's physical local history collection, located in the Burlington History Room at Central Branch, along with this new digital collection.
The powerful new platform improves how you can search for, view, and download remarkable images, maps, clippings, records, and more that capture bygone Burlington. It is being unveiled at a sold-out event tonight. But don't fret—it can be viewed from anywhere with an internet connection!
We are also celebrating its release with an interactive display at Central Branch, where you can mark your home on a giant historic map. Drop by anytime during open hours to add a sticker to our map representing your "spot" in Burlington!
"Creating the Burlington Digital Archive has been an incredible investment of time and effort," says Cody Vanderslot, Manager of Digital Resources & Collections at BPL. "We're so grateful to everyone who has supported us, including the City of Burlington, for a Burlington 150+ grant that enabled us to take this project to the next level."
How to Use the Archive
You can find Burlington Digital Archive on the library website in a few ways:
Under RESOURCES, select Local History Databases
Under SERVICES, select Burlington History Room
HOME PAGE: Choose 'BPL site' and type Burlington Digital Archive in the main search box
Burlington Digital Archive houses three different repositories—one each for Burlington Public Library, Burlington Historical Society, and the City of Burlington. You can narrow your search to a single repository or browse all three. You can also explore various themed collections or use the search feature to seek out specific items.
Once you open the digital archive home page, you can type a keyword in a Search box or select one of the three main menu options. With over 6,000 items in the Burlington Digital Archive, it may be helpful to narrow your search results by applying a few pre-set filters. The filters are provided on the left side of your computer screen or in a 'Filter results' box on your mobile device.
We aim to share Burlington's history with as many people as possible by providing digital access to our content. Curating digital content for this platform is an ongoing process. As we continue to digitize items from our physical local history collections, BPL will be actively uploading new content, so be sure to come back frequently to see what's new (again)!
A world of discovery awaits whichever way you explore this new database. Have fun with it!