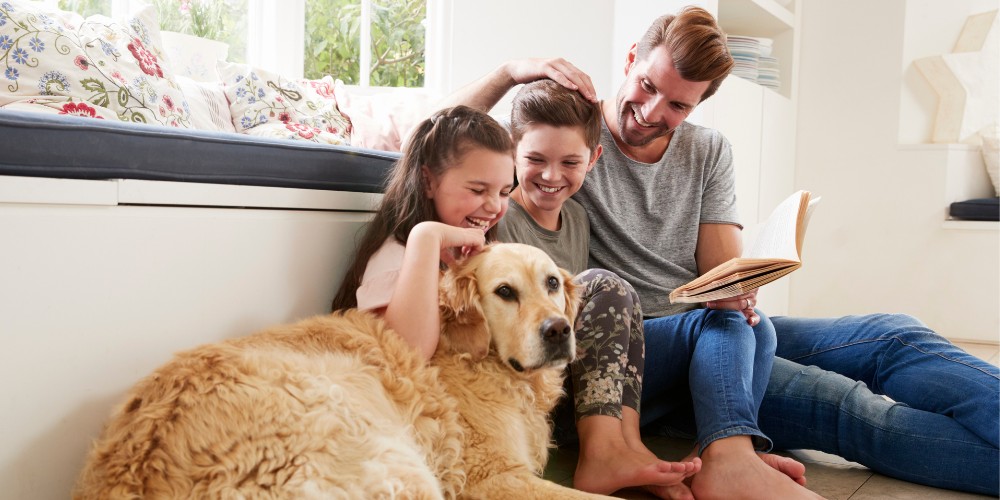 The Joy of Reading as a Family
Sharing a great story is what family literacy is all about. Taking delight in books together helps children develop a positive association with words and language and experience joy in reading. Time is precious, and when you take the time to read and talk about books as a family, you show your kids that traditional literacy skills—reading, writing, speaking, and listening—are valuable skills for life.
Literacy is everywhere, so you likely already include literacy practices in your day-to-day routines. And Burlington Public Library is here to help if you're looking for new ideas or to build more literacy into your family life. From establishing fun reading practices to accessing our collection, services, and programs, the library is your first stop when looking to enrich family literacy.
Build Literacy Into Your Family Routines
Remember, reading is reading! Choose fun books that both you and your children will enjoy. You can read graphic novels, magazines, non-fiction books on topics that engage your children's curiosity and imagination, recipes, and more.
Read in many different ways. Read to your children and have them read to you, a sibling, a grandparent, or a pet. Reading to animals is a huge confidence booster—they offer no judgement, love the attention, and (usually) don't interrupt.
Having your child help choose the books is key to gaining their interest and involvement. While reading together, ask open-ended questions like "what do you think will happen next?" and encourage them to ask you questions, too.
As well as reading together, here are some more literacy practices a try:
Play a board game as a family and involve your child in reading the instructions or summarizing the rules of a game they are familiar with. A few game suggestions include Yahtzee, Monopoly, and Clue..
Allow your child to see you reading. Tell them about what you are reading, whether it be the news, research, or a fiction or non-fiction book.
Go grocery shopping, read the items off the list, and then find them together.
Follow a recipe and cook together or read off the menu at a restaurant.
Stay positive and go with the flow! Do your best to schedule reading into your busy routines but know that it's okay if it doesn't work every day. As long as the routine and effort have been established, you are well on your way to growing a reader.
Boost Your Family Literacy with BPL
From family-friendly programs to the books on our shelves, there are so many ways that the library can enhance your family's reading routine throughout the year.
Check Out Our Collections
Come to a Program
Take a look at our program guide for kids and adults & teens.
Join us for storytimes at all BPL locations.
Snuggle up together for PJ Storytime At Home on Zoom!
Join us virtually or in person for Relax, Listen & Draw Book Club. Sit back and relax as a librarian reads aloud a story geared to kids in grades 1-3.
First Steps
Since literacy is one of the most important skills we learn, take some time to plan how to make family literacy part of your life. Here are three things you can do starting now:
Try to build literacy into your daily routine as a family and make it fun.
Try some new family literacy activities.
Visit the library to attend a program, borrow books, or access online resources.
Remember, Burlington Public Library is your one-stop shop for literacy, so come and visit us soon!