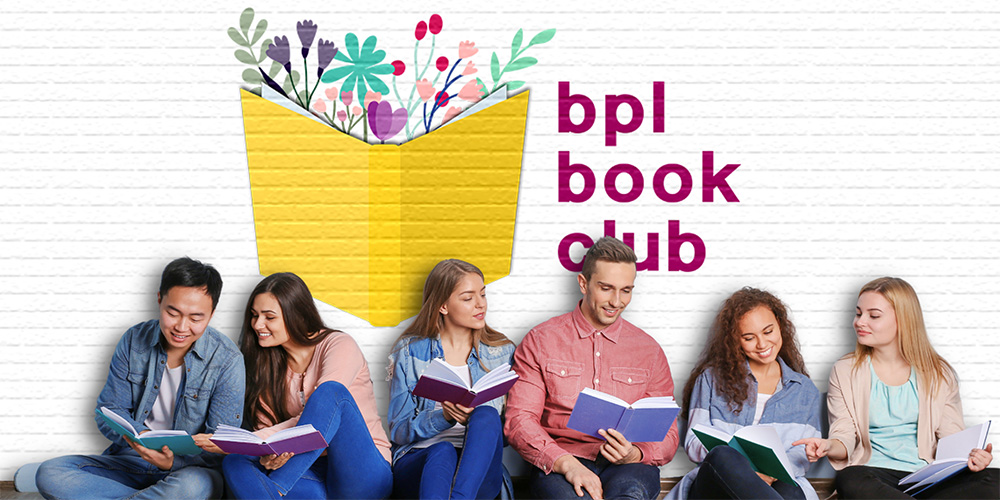 Introducing...BPL Book Club
We're putting a fresh new face on an old favourite with BPL Book Club! Our new adult book club is all about meeting people and forging friendships over your shared love of reading. Since the pandemic, many of us are finding it harder to meet and connect with friends. We want to offer a chance to discover and build relationships without pressure or planning.
BPL Book Club is the perfect place to make new friends with similar interests.
How it Works
We'll begin with some conversation starters so you can get to know fellow attendees.
Then our expert staff will guide a lively discussion about thoughtfully selected titles—from classics to new releases. Bring your enthusiasm and love of reading, even if you don't get a chance to finish this month's title.
You can register for one session to get a taste, then sign up every month to deepen your connection to reading and fellow book lovers. If you prefer to only attend certain months, that's okay too!
We purchase extra copies of the books we select for BPL Book Club, and they are part of our regular collection. You can plan ahead by placing holds on book club titles that you want to read. To get a list of titles we're reading at your nearest branch, pick up a BPL Book Club bookmark so you can keep track of what's coming.
What's New in BPL Book Club
Our previous adult book club, Titles, is retiring. Titles fans will find a similar experience at BPL Book Club, with a few upgrades!
BPL Book Club sessions will include PowerPoint presentations so it's easier for people to join the discussion, even if they have difficulty hearing or processing conversations.
We are focusing on building connections with fellow book lovers—we'll include an ice breaker prompt at the beginning of each session so you can get to know fellow attendees and make new friends.
View all BPL Book Club events and sign up!
What We're Reading
Alton Branch BPL Book Club
April: The House in the Cerulean Sea by TJ Klune
May: The Golden Couple by Greer Hendricks
June: Five Little Indians by Michelle Good
July: Looking for Jane by Heather Marshall
August: The Guncle By Steven Rowley
September: Sparks like Stars by Nadia Hashimi
October: An American Marriage by Tayari Jones
November: 30 Things I Love About Myself by Radhika Sanghani
Central Branch BPL Book Club
April: Such a Fun Age by Kiley Reid
May: Looking for Jane by Heather Marshall
June: The Family Way by Christopher DiRaddo
July: Run, Rose, Run by Dolly Parton
August: The Rose Code by Kate Quinn
September: A History of My Brief Body by Billy-Ray Belcourt
October: The House in the Cerulean Sea by TJ Klune
November: Sparks like Stars by Nadia Hashimi
New Appleby Branch BPL Book Club
April: Sea of Tranquility by Emily St. John Mandel
May: The Lions of Fifth Avenue by Fiona Davis
June: Sparks like Stars by Nadia Hashimi
July: The Book Woman of Troublesome Creek by Kim Michele Richardson
August: The Vanishing Half by Brit Bennett
September: Violeta by Isabel Allende
October: The Family Way by Christopher DiRaddo
November: All the Children are Home by Patry Francis
Tansley Woods Branch BPL Book Club
April: Violeta by Isabel Allende
May: What's Mine and Yours by Naima Coster
June: All the Children are Home by Patry Francis
July: The House in the Cerulean Sea by TJ Klune
August: The Invisible Life of Addie LaRue by V.E. Schwab
September: The Night Visitors by Carol Goodman
October: The Unlikely Adventures of the Shergill Sisters by Balli Kaur Jaswal
November: Mexican Gothic by Silvia Moreno-Garcia
Virtual BPL Book Club (afternoon)
April: 30 Things I Love About Myself by Radhika Sanghani
May: Swimming back to Trout River by Linda Rui Feng
June: The Guncle By Steven Rowley
July: Sea of Tranquility by Emily St. John Mandel
August: The Family Way by Christopher DiRaddo
September: All the Children are Home by Patry Francis
October: The Golden Couple by Greer Hendricks
November: What's Mine and Yours by Naima Coster
Virtual BPL Book Club (evening)
April: The Invisible Life of Addie LaRue by V.E. Schwab
May: Run, Rose, Run by Dolly Parton
June: A History of My Brief Body by Billy-Ray Belcourt
July: The Night Visitors by Carol Goodman
August: An American Marriage by Tayari Jones
September: Five Little Indians by Michelle Good
October: The Other Black Girl by Zakiya Dalila Harris
November: American Dirt by Jeanine Cummins