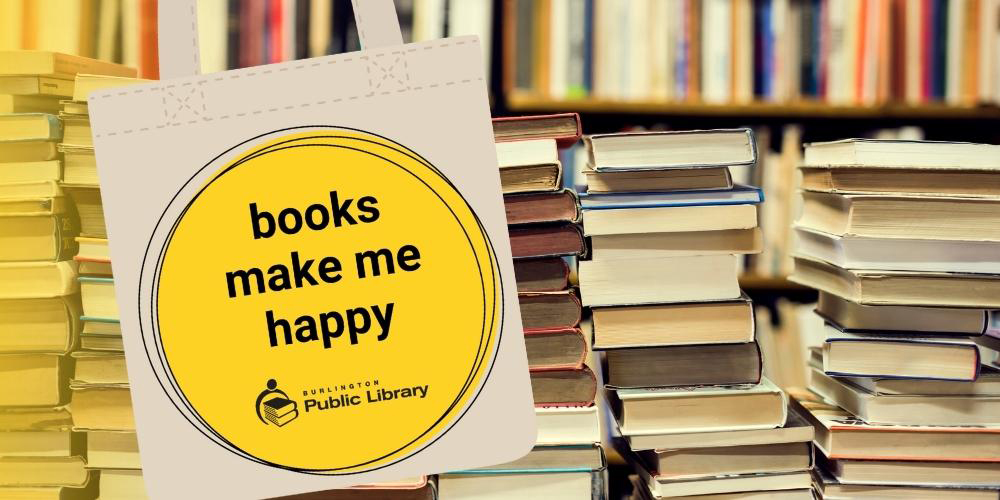 BPL Book Sale Coming Soon!
Readers: Save these dates for the biggest book sale of the year! Our super-sized sale is happening Saturday, September 9 and Sunday, September 10 at Central Branch from 9am to 5pm.
This is the sale everyone's been waiting for. We haven't sold any of our used books since the pandemic interrupted the Library's usual used book displays. Customers have been asking us when and how they can purchase books the library no longer needs, so we're answering in a big way.
"We always want to ensure our collections are relevant and desirable to our community," says Cody Vanderslot, Digital Resources & Collections Manager. "During the pandemic, we did essential collection maintenance only, which meant we had some catching up to do when normal operations resumed. This gave us the chance to do a thorough review of our entire collection."
With a physical collection of over 370,000 books, DVDs, CDs, and magazines, reviewing Burlington Public Library's collection is a big project. Vanderslot and his team considered data such as the last date borrowed and the number of times an item has been loaned since it joined the library's collection. Other factors like relevance, condition, historic value, representation, and maintaining a complete series are also considered.
"We use a data-driven approach to ensure we keep what our customers want and remove what they don't," says Vanderslot. "All of this work behind the scenes makes our collections more searchable and enjoyable to browse so readers can find what they're looking for."
The main purpose of collection maintenance is to improve our collections for the community, not to remove items. This year we added over 17,000 new items, not including digital items or magazines. Many of the removed items were extra copies of titles we continue to own and outdated resources that have been replaced with more current information.
So, what's in it for you... in addition to a freshly curated Library collection? We have over 5,000 gently used items for booklovers to add to their home collections!
The sale includes paperbacks, hardcover, large type, picture books, board books, DVDs, CDs, audiobooks, and magazines for all ages. Everything will be on display for browsing in Centennial Hall and the tables will be restocked throughout the weekend.
Shoppers can stuff a sturdy Books Make Me Happy zippered canvas book bag full of sale items for $15—one price for the bag and the books! Alternately, items are priced individually for those toting their own bags:
Print books: $1
All audio-visual items (DVDs, CDs, audiobooks): $2 each or 3 for $5
Magazines: 4 for $1
The Library accepts payment by cash, debit, and credit. The book sale is all about building a library collection that Burlington wants. All book sale proceeds will go back into BPL's collection budget. Shoppers who are thrilled with their bargain buys—and want to show their appreciation—will have a chance to make a donation in addition to their purchase to support BPL's Kids Learning Fund. This fund supports our literacy and STEAM programming, children's collections, and upgrades to our children's areas.
We look forward to seeing you at the BPL Book Sale!