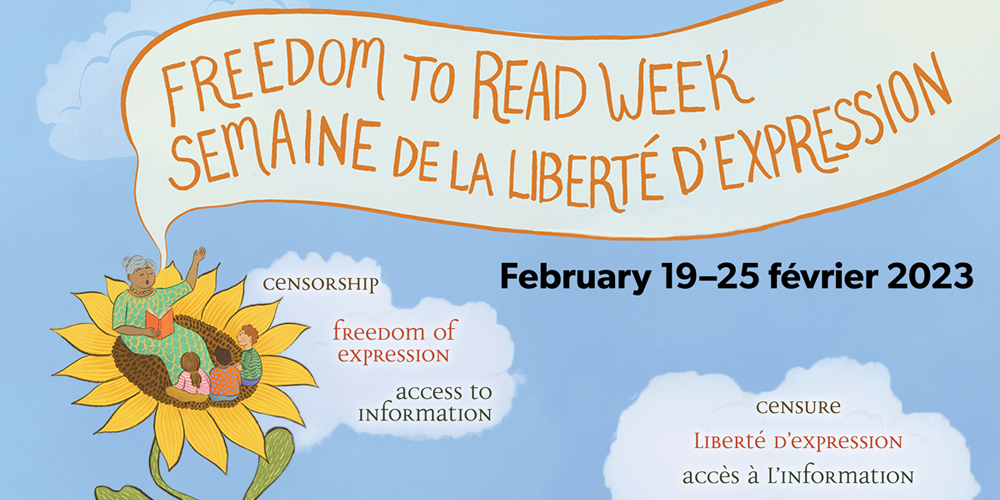 Banned Books and Why We Love Them
Thousands of books are challenged around the world every year for political, legal, religious, or moral reasons. And sometimes, they are removed from schools or libraries because a group of people consider them to be inappropriate. Every time a challenged book is removed from a shelf, it means that someone else is deciding what information or point of view you can access, explore, and question. This is what intellectual freedom is all about. The Canadian Federation of Library Associations describes it as your right to have an opinion and to seek and receive information, including that which some individuals and groups consider unconventional, unpopular, or unacceptable.
As a library, intellectual freedom is one of our core values. We believe that providing a wide range of materials for people to read and learn from is key to democracy. How can we learn and grow if we can't access books that stretch and challenge us? How can we empathize with different perspectives if we can't access those points of view? We celebrate Freedom to Read Week, February 19 to 25, to reinforce the value of intellectual freedom.
Banning Children's Books
School-based book bans have been making headlines frequently lately. Did you know that lots of children's books end up on banned book lists? This tactic is sometimes used to limit what children can access and learn to shape their views to match those of the people in power.
Here are some familiar children's books you may not have known were banned or challenged and their reasons why:
Did any of these books surprise you?
Celebrate Freedom to Read
During Freedom to Read Week, we want to encourage people to think about and reaffirm their commitment to intellectual freedom, which is guaranteed under the Canadian Charter of Rights and Freedoms. To celebrate, we encourage you visit any of our locations to borrow and read a banned or challenged book. Check out some of our in-branch displays and start a conversation with your families and friends about some of the books that surprised you.
Take a look at these BPL Staff Pick Booklists:
AzkaBANNED: Challenged or Banned Children's Fantasy Books
BPL's List of 25 Challenged Children's Books
BPL's List of 30 Challenged Teen Books
Intellectual Freedom & Censorship