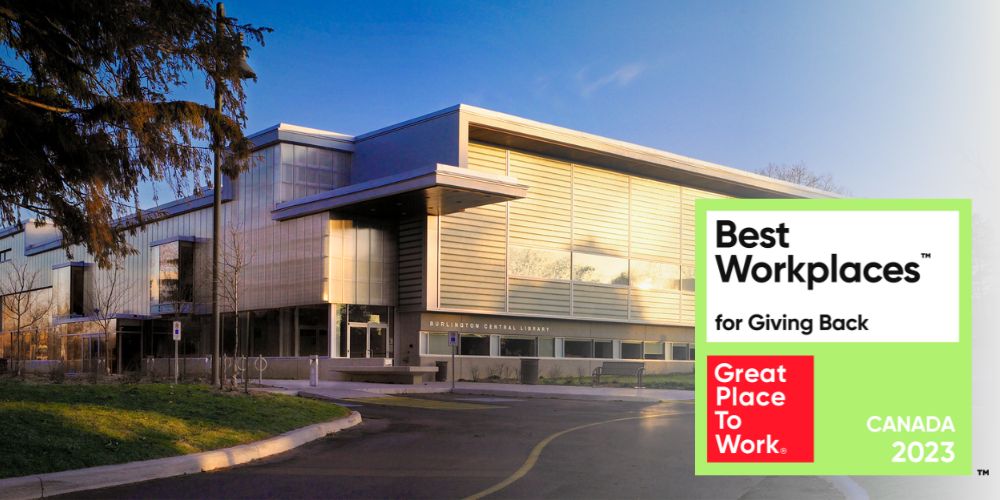 BPL Recognized as Outstanding Non-profit
Burlington Public Library has been recognized as an outstanding non-profit organization with two recent accolades.
Burlington Chamber of Commerce Business Excellence Awards Finalist
First, the Library was named as a finalist for the Burlington Chamber of Commerce Business Excellence Awards in the not-for-profit category. These awards are a celebration of Burlington businesses and what they have achieved through leadership, community contributions, and innovation.
"We are so honoured to be recognized by the Chamber as an outstanding not-for-profit," says BPL CEO, Lita Barrie. "Burlington has an exceptional business community, and we are proud to be named among such incredible local businesses."
Burlington Chamber of Commerce Business Excellence Award winners will be announced at an awards gala on May 23rd.
Canada's Best Workplaces for Giving Back
The Library was also recently named one of Canada's 'Best Workplaces for Giving Back,' by Great Place to Work, a global leader in workplace culture assessments. This designation is awarded to businesses that are certified by Great Place to Work and achieve a minimum 90 per cent employee sentiment score regarding the workplace's contribution to the community.
"It is really meaningful to be included on this list among businesses like FedEx, Pinterest, and LinkedIn," says Kourtney Shelton, Director of People, Branches, & Organizational Development at BPL. "We see the impact our staff have on the community every day and we are honoured to be recognized for that at a national level."
Burlington Public Library employs over 150 people in roles ranging from maintenance to marketing. As a public service, the library provides access to a collection of more than 240,000 physical items, offers free programs for all ages, and connects people in need with vital community resources. As a non-profit and charitable organization, BPL gratefully accepts monetary donations to support its collection.