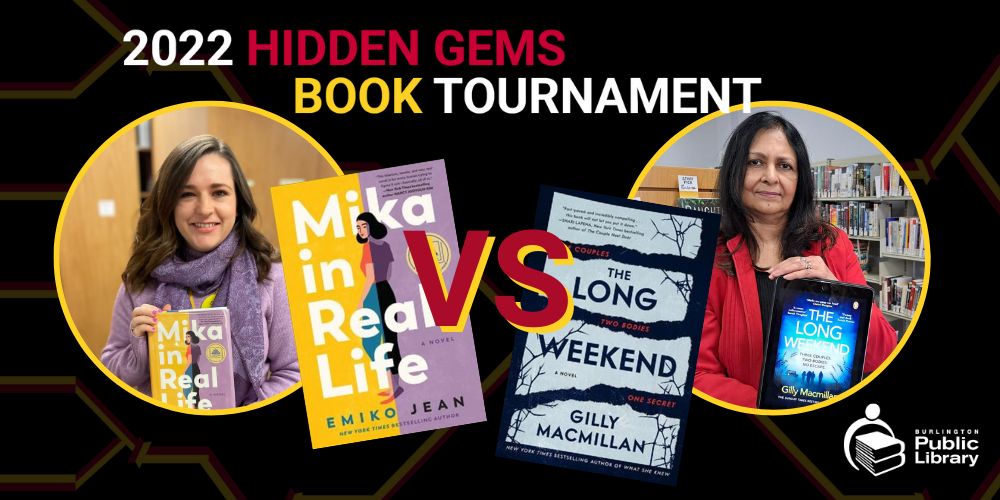 Our Top Hidden Gem of 2022
Our 2022 Hidden Gems Tournament has ended and we have a winner! After four rounds of voting, our list of 16 champions has been whittled down to just one.
And the winner is...
Alton Branch Librarian, Emma Burkholder, took the top spot with her pick, Mika in Real Life by Emiko Jean.
Our second-place finisher was New Appleby Branch Librarian, Kumkum Bhandari and her pick The Long Weekend by Gilly MacMillan.
Congratulations to all our library staff who stepped outside their comfort zone to film a pitch video for their Hidden Gem of 2022. Our pitch videos were viewed a total of 14,889 times! Wow! And more than 1000 votes were cast in our social media polls.
On top of that, we saw a notable uptick in circulation amongst the titles in the tournament. Titles featured in the tournament saw a 150% increase in holds among physical books, eBooks and audiobooks. Nearly 400 holds were placed on featured titles during the tournament! While Kumkum did not take the crown for top Hidden Gem of 2022, her selection did see the largest spike in interest in our catalogue with 37 new holds placed during the tournament.
Thanks to everyone who took time to vote and share this year's picks. To view the full list of contenders (and maybe add a few to your 2023 reading list) check out our 2022 Hidden Gems Tournament page.