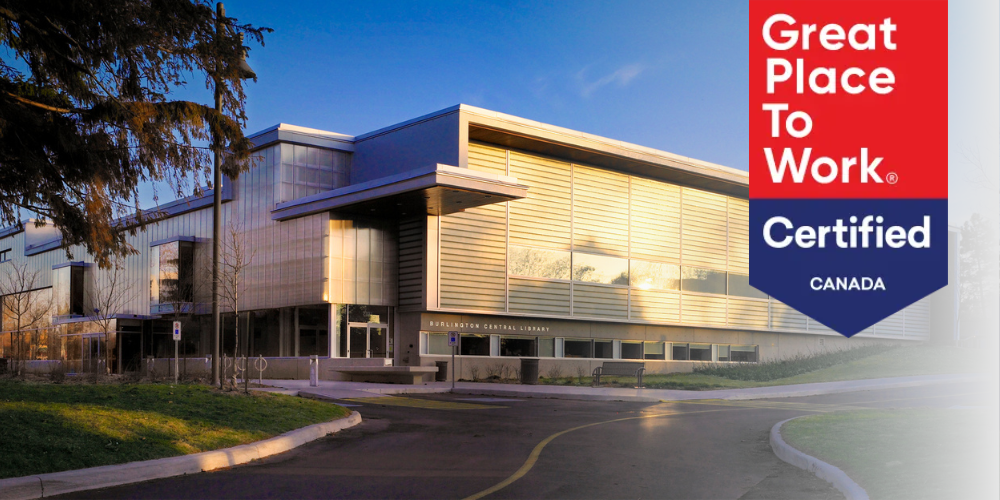 BPL certified as a 'Great Place to Work'
Burlington Public Library (BPL) has been awarded a prestigious stamp of approval as an official Great Place to Work™ (GPTW). GPTW is the world's largest ongoing workplace assessment survey. It awards certification based on a comprehensive employee survey that considers workplace culture, job satisfaction, compensation, and other factors.
Getting Certified as a Great Place to Work
To become certified, BPL conducted a two-week survey with all employees. More than 90 per cent of staff completed the 60-question survey. The results were analyzed, and BPL surpassed the minimum score for certification by nearly 20 points.
Notable areas of excellence included workplace pride and sense of camaraderie.
"The people who work at BPL contribute so much to our positive workplace culture," says Kourtney Shelton, Manager of Human Resources at BPL. "We are lucky to have an incredible team, and in turn, do everything we can to create a positive work experience for all our staff."
Standing Out As An Employer of Choice
Burlington Public Library has long been considered an excellent place to work. To remain an attractive employer in a very competitive hiring market, we are continually working to improve employee satisfaction and recruitment practices. While some organizations are struggling to hire, we have filled 100 per cent of vacant positions in 2022—something we are very proud of.
Want to join our team? Keep tabs on our Careers page to view and apply to job openings.