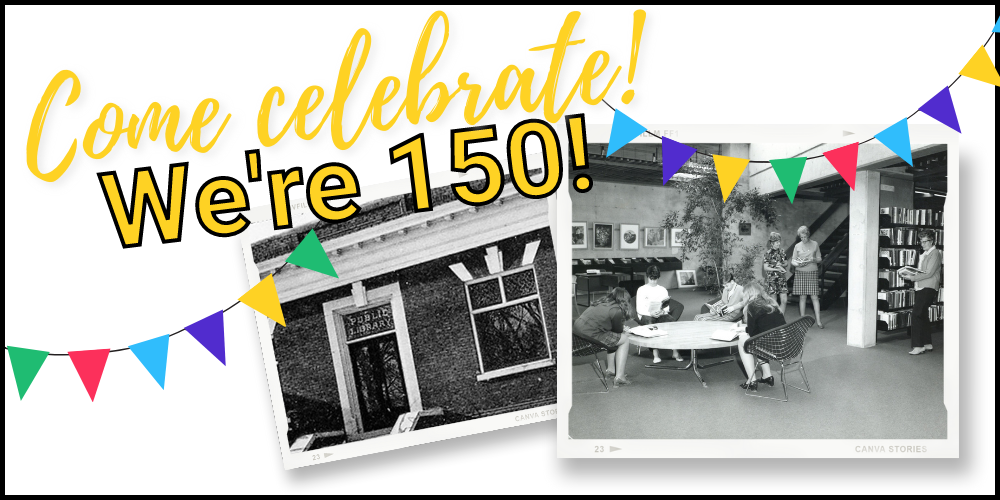 BPL Celebrates 150 Years with Birthday Bash
Come celebrate our 150th birthday! Burlington Public Library was founded in 1872, and this September we are celebrating our sesquicentennial with a birthday bash.
Join us at Central Branch September 17th for a morning of fun, games, music, food and more. This occasion is also an opportunity to recognize all our Summer Reading Club participants. Winners of our grand prizes will be announced during a presentation at 11 a.m.
You can find event details in our calendar.
Contribute to a Community Art Project
During our birthday bash, attendees will have a chance to put their stamp on BPL by painting a disc for our collaborative community art project. Get your creative juices flowing and prepare to paint a masterpiece that will be displayed at our Central Branch.
BPL's 150 Year History
Back in January 1872, it was through the dedicated efforts of enterprising local villagers and public school trustees that library service started in our community. Burlington Public Library's story began in the old Central Public School hallway, where villagers could stop by for an hour every Friday afternoon to borrow a book. But, thanks to the fundraising efforts of the townspeople, the growing collection soon became too big for its location. So, some very generous folks rallied to support their local library service—by taking turns hosting over 2,000 books in their homes and businesses until the first permanent library site opened in 1907. Visit our timeline to read how our community raised the thriving library system we have today.